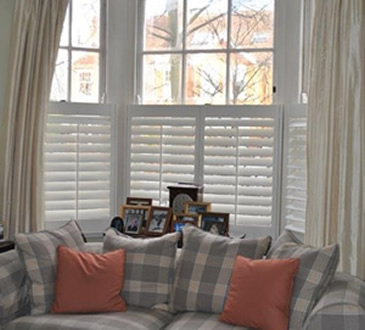 Café Style Shutters are the ideal solution for any London home with traditional box sash windows. This is hugely common on Victorian, Georgian and Edwardian homes fitted with bay windows that quite often look on to the street. These shutters cover the bottom portion of the windows which help with the street level privacy while still allowing for maximum light through the top. Many clients combine this style of shutters with curtains that can be pulled across at night or when needed to maintain privacy.
Although these shutters are normally found in certain properties with bay windows, they can be designed and fitted to many more styles of windows and properties. They do not look out of place on more modern buildings and other less traditional applications. As with all the shutters we offer the café style can be finished in many different paints and varnishes depending on your personal taste and existing room décor.
With or without curtains these shutters typically cover around half of the window, although we are often asked to fit these at a height of around two thirds for those who would maybe prefer more privacy and light entry from a smaller top section. Either way the bottom section louvres can be adjusted at any time to allow for maximum light and airflow when needed. We highly recommend this style for certain styles of homes on street level around London.
Café Style Shutter Benefits
Look great with or without curtains.
Maximum light from the top whenever needed.
Can be produced to cater for extra privacy in built up areas.