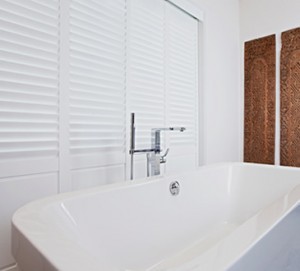 We are often asked to fit solid shutters or shutters with a solid section by many of our clients throughout London. They are a fantastic option for those looking to blackout rooms often and look great in rooms with a traditional décor. Solid style shutters are one of the best styles for optimal insulation when closed and makeup one of the most robust and durable styles of shutters on offer. These shutters can either be completely solid throughout or a mixture of solid shutter and louvres depending on your requirements.
Many times clients require solid panels at the bottom of sash windows that may be looking onto a busy street or road. This is great for privacy in built up areas throughout London. For those looking for blackout in bedrooms these can also be a great option when closed and then can be opened out in when light is needed. This style is not just used for windows but also make for great room dividers and free standing screens. The shutters can be painted or varnished in a style of your choice to suit any decors.
This style of shutters are well known for being installed in Victorian properties which feature large sash and bay windows. They were then fitted in a way that would allow them to fold into boxed housing to each side. Many clients these days opt for more decorative and intricate shutters, but these work fantastically in the right settings.
Solid Shutter Benefits
Near complete blackout when required.
Amazing insulation and durability.
Two different designs of solid shutters available.