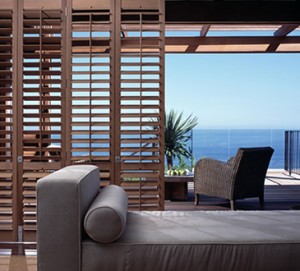 We offer two styles of track system shutters which work much in the same way that sliding patio doors open and close. The shutters use a small trolley wheel system to allow the panels to open in a gliding motion along the tracks. Depending on where these are being fitted they can be installed with a top and bottom track if needed. They act as a great way of dividing up rooms or on windows and door openings where a long run of shutters is required. The two shutter styles available as track systems are known as By-Pass and Bi-Fold.
Bi-Fold shutters work very well with patio door installations and can be used along large windows where shutters are needed to slide and fold open. Each shutter panel is fixed together using hinges which can be fully closed or opened allowing access to the door or windows behind. When fitting in front of patio doors for example, the shutters can be fully opened back to allow for full access to the door and patio area. This style is also available in a free floating style which looks the same, but gives no restrictions with the shutters folding along the tracks.
By-Pass shutters are great for dividing and separating rooms in the home. They allow the shutter panels to slide left and right by tucking in front and behind the other panels. This style is also popular for clients looking for a shutter solution for their walk in wardrobes.
Track System Shutter Benefits
Great for long window runs and room dividing.
Act as a great insulator covering from top to bottom.
Beautiful and functional solution for all openings and areas.