All our shutters are made bespoke to your requirements and we have a range of optional extras which can make your shutters stand out even more and work with your exact requirements. By using a wide range of cut outs, ring pulls and fasteners your shutters can be truly designed to your exact needs and style. Our range of optional extras can also help make your shutters easier to use and more accessible to operate for all members of the family.
Ring Pulls
Our shutters can be fitted with ring pulls which allow you to easily open and close your shutters. Ring pulls can make opening heavier shutters far easier and are designed to look great with any shutter installation.
We highly recommend fitting ring pulls to shutters which may be harder to access areas or for general runs of shutters which may be a little hard to open and close for some members of the family.
Additional Fasteners
We can use a bolt system in the panels of the shutters which secure into the frame quickly and easily using a small key. We also have a fastening system which uses a sliding bolt to secure to the frame without the need of any key.
Depending on the option you go for you can increase the security of the shutters and keep them from being opened and closed in a more permanent manner.
Door Handle Cut Outs
By creating specially made cut outs you will have easy access to the door handles on the existing door which the shutters are being fitted. This allows easy access to the door without having to open or move the shutters.
We design the shutters around your door so can provide handle access wherever needed while creating a professional finish which not only looks fantastic, but is highly accessible.
Remote Control Functionality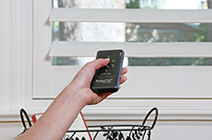 Remote control is the perfect option to any shutters in the home. For those having shutters fitted in hard to reach places or in many different rooms, a remote control can be a great way of opening the shutters you need at any time of the day.
Using the remote control provided you can move the shutter louvres quickly and easily, adjusting the light levels and privacy with minimal effort.