There are many different styling and design aspects when it comes to our bespoke shutters, one of which is the type of tilt rod system that you use to operate your new shutters. Although it is often overlooked, the tilt rod can drastically change the overall feel and look of your shutters. We have different options available when we design your shutters which can be based on your own preferences and the way you are going to be using your shutters.
Centred and Offset Tilt Rods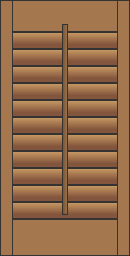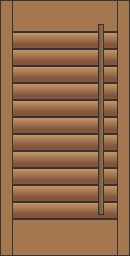 The tilt rod is placed on the shutters to allow you to easily open and close the louvres. By adjusting the tilt rod you can adjust to the exact light and air flow levels needed in your room whilst also maintaining the correct amount of privacy.
Centred tilt rods are placed down the middle of the shutters in a standard position. This looks great for individual shutters on small windows as well as a range of other applications. The other option is having the rod placed down the left or right which is known as an offset tilt rod.
By offsetting the title rod you can place the rod where it will simply look better, or for ease of accessibility when adjusting. This type of tilt rod also works great on special shaped shutters where the tilt rod placement is more limited.
Hidden / Silent Tilt Rods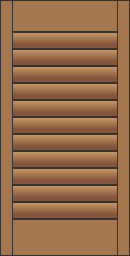 With this type of tilt rod you are able to operate and adjust the louvres by touch, without the need of a visible tilt rod. This helps to create a minimalistic, contemporary style and has become a very popular choice among our clients.
We fit some hidden grooves internally with a mechanism which moves the shutter louvres in unison when you move one. This is an optional upgrade which can really transform the look of your shutters and is the ideal choice for a long run of window shutters and room dividers.
Working with you and your own input we can help you to decide on the best style of tilt rods for your bespoke installation. We have many examples in our gallery of shutters with all the different styles of tilt rods that we offer.